Mission Christmas – Cash For Kids
8th December 2022
Across the UK, One in three children live in poverty. This winter many families are struggling to pay bills and put food on the table. The Mission Christmas Initiative works to support children's charities and organisations, to provide gifts for children who would otherwise wake up on Christmas without a gift from Santa / their loved ones.
Lisa Sullivan of Cash for Kids welcomed three members of the WAVE team; Sam Cameron, Tim Simpson and Caitlin Earle to volunteer with Cash for Kids at The Leeds Mission HQ. The day consisted of present sorting, unboxing deliveries and order picking presents which had either been donated or bought by the organisation with money from donated funds.
Mission Christmas will not end child poverty, but it WILL make this Christmas day different for the thousands of children who otherwise could wake up to nothing.
With the ongoing cost of living crisis we can not sit back any longer. Companies and organisations must step up in order to support those in need. It is for this reason that WAVE also decided to donate £500 to the Mission Christmas cause.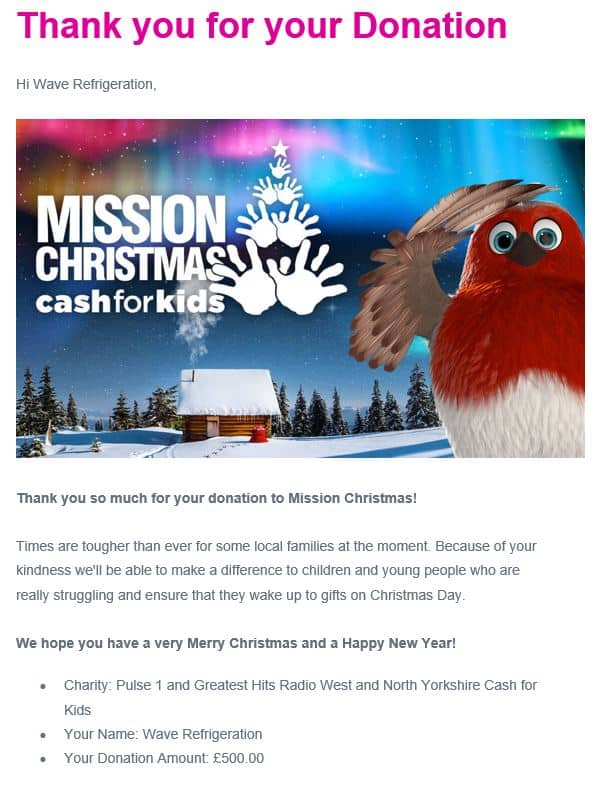 If you or your company would like to get involved there's still time to help. Follow the link below for more information and how to donate.
Mission Christmas | Cash for Kids | Helping the children that need it most