Our
Work
At WAVE we are incredibly proud of our work and the impact that it is has for our customers and our natural environment. We are proud to concentrate our efforts on low global warming potential refrigerants and technologies and are as equally proud of the technically agnostic approach that we take. This section showcases examples of our work.
WAVE and
R744 (CO2)
Alongside one of our customers we have worked on the technical advancement and project delivery in the adoption of R744 refrigeration, where waste heat and additional heat is generated from the refrigeration systems. The R744 system is a Transcritical Booster configuration and serves both Medium Temperature (MT) and Low Temperature (LT) display cases and cold rooms.
The systems have a heat reclaim coil installed to provide space heating to the stores. This utilises the heat produced by the compression of the refrigerant to heat a secondary heat transfer medium of either water (glycol) or air, which is then used to heat the store.
The heat reclaim system also utilises a false load evaporator in situations where the store heating requirement exceeds what is freely available from the pack. This solution operates an external evaporator, which adds additional load to the compressors which consequently provides increased heat energy that can be employed to heat the store. Despite an additional load being created, this system is able to save around 32,000 kWh per store compared to Gas Fired systems, due to the use of compressors at a higher temperature which results in attractive Coefficient of Performance (COP) figures.
Based on our customers typical refrigerant gas loss, their Total Equivalent Warming Impact (TEWI) of an HFC system is equivalent to 232 tonnes of CO2 per store annually. In converting to CO2, their typical store emits an equivalent total of just 112 tonnes of CO2 annually: a significant reduction that benefits both our customer and the environment!
WAVE's development of a
Total Cost of Ownership (TCO) Calculator / App
As food retailers embark on a low carbon future, where the F-Gas regulations are a key driver, it is crucial that capital cost, operational expenditure and emissions are minimised.
WAVE were appointed by one of our customers to provide a TCO calculator / online App to determine the capital cost, operational costs, and emission outputs based on a store's refrigeration load.
The remit was simple; provide a calculator that provides outputs based on the following inputs:
Total linear meterage of chilled refrigeration in any store
Total linear meterage of frozen refrigeration in any store
Desired life cycle of the system in years (given as 20 years)
The TCO calculator outputs allows our customer to make the most appropriate technology selection based on the calculator outputs from the plethora of refrigeration technologies available to food retailers.
The outputs provided for each type of technology that feature in the calculator and App are detailed below:
Total refrigeration capital cost (CAPEX) – inclusive of plant, display cases and the installation
Annual energy cost of a store's refrigeration systems
Annual maintenance cost of a store's refrigeration systems
Total Cost of Ownership (TCO)
Annual and life cycle emissions of a store's refrigeration systems – based on our customers 5% annual leak rate
Our TCO calculator / App assesses the following system types:
DX HFC
DX HFO
Ducted Air (Mistral) – HFO Primary
Ducted Air (Mistral) – CO₂ Primary
DX R744
Air Cooled Integrals
Water Cooled Integrals
Secondary Propylene Glycol
Our TCO calculator / App considers the dynamic load of the respective system types and then provides the projected energy and emissions output.
All system load consuming components are considered including:
Compressors
Condenser/gas cooler fan motors
Evaporator fan motors
Lighting
Expansion device
Defrost and door trim heaters
Through developing a TCO calculator / App, we are proud in the knowledge that decisions that impact our natural environment will be condisered when selecting refrigeration systems. Our work has been recognised as our TCO calculator has been shortisted at the RAC Cooling Awards 2020!
WAVE and
A2L Refrigerants
WAVE have worked in partnership with a leading food retailer and other stakeholders in the development of A2L refrigeration systems since 2017. Chemours refrigerant XL40 / R454A was selected as the A2L of choice due to its similar thermo-fluid properties to synthetic HFC refrigerants. As well as possessing a GWP of 238 (a 94% reduction against R404A), improved system performance has been achieved when compared to HFC refrigerants. The images below illustrate the performance enhancements.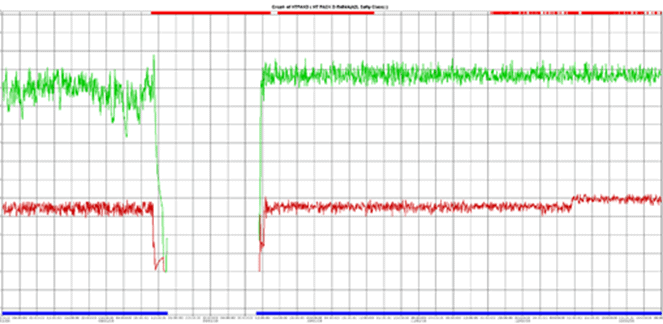 Green = Condensing Pressure Red = Suction Pressure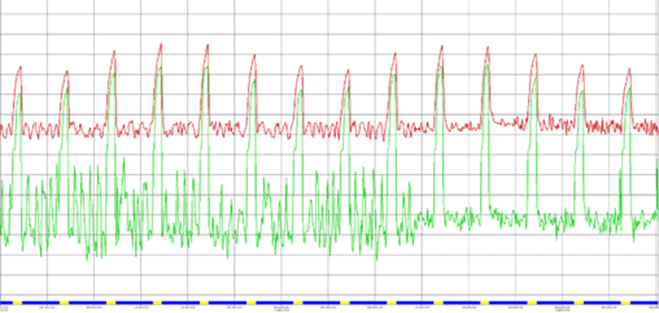 Green = Evaporating Temperature Red = Control Temperature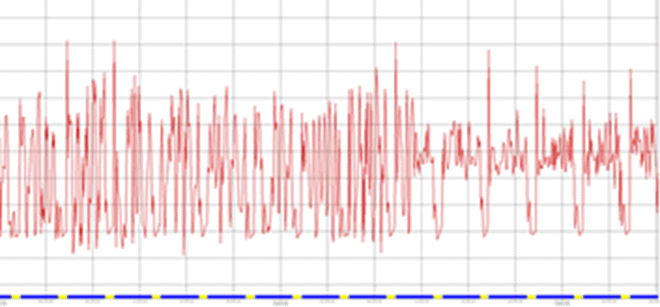 Red = Superheat
Since the early day trial, WAVE have worked with the trial partners in the development of a bespoke HFO twin-circuit 80 kW total plant capacity system. Our collective work has ensured that compliance requirements are achieved; an example being the twin-circuit plant that features a micro-channel condenser to reduce system charge to within the limitations for A2L refrigerants as per BS EN-378: 2016. The images showcase the plant solution: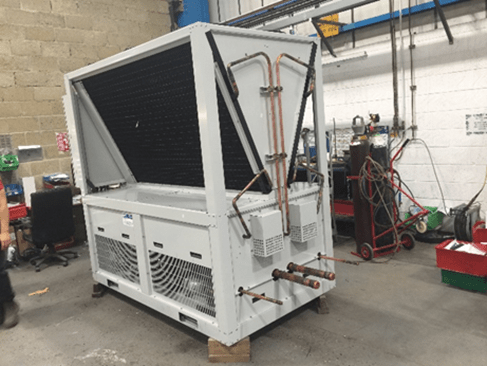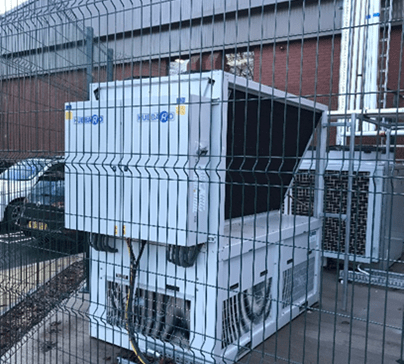 As A2L refrigerants are mildly flammable, WAVE supported our customers partners to ensure that the sales area display cases mitigated flammability concerns and risks. The following features are incorporated into the A2L display case design:
Fan motors are ATEX rated assemblies and connections are formed in ATEX approved junction boxes using appropriate connectors
Valve solenoid coils have been changed from standard to ATEX approved
Electrical cables are fully protected from chafing or accidental damage when passing through access holes (holes in metalwork are to be sleeved with protective gaskets)
Canopy lights are spark proof LEDs
Control trays are located above piped services
Pipework shut-off valves are located outside of the refrigerated area
Specially designed and calibrated gas sensors are fit within each case and wired back to the alarm system in case of a gas leak. This system has been designed to shut down the case(s) in the event of a leak
A rollout of A2L systems commenced in 2019, and we are extremely proud that our involvement as A2L project facilitator and technical consultant has not only resulted in a significant refrigerant global warming potential reduction, but has also achieved a 4% energy reduction when compared to R448A (an efficient HFC refrigerant). Our A2L endeavours resulted in winning the Environmental Collaboration of the Year at the RAC Cooling Awards in 2019, and the Refrigeration Innovation of the Year at the ACR & Heat Pump Awards in 2020!
Asset Database Review to
Improve Accuracy and Conciseness
Working with one of our customers who operate in the convenience retail sector, we provided support to their Property Asset Management Team. WAVE were able to facilitate a significant reduction in number of asset naming conventions, whilst also improving the accuracy of the data within the asset database.
This project not only involved refrigeration assets, but also HVAC, building services, lifting equipment, fire equipment and security; the areas of the client's estate that were covered included stores, distribution centres and even corporate property. The number of asset names was reduced from c.1200 to c.750, allowing for greater ease in asset tagging whilst retaining any valuable information derived from the asset names.
During the process, all asset criticalities and severities of asset were reviewed and amended where necessary, these often change dependent on the area of the estate in which the asset is used and therefore special consideration must be given to this task. This allowed WAVE to showcase our comprehension of engineering in many different fields and our recognition of how a holistic approach benefits the interconnected processes within end user estates that affect one another on a daily basis.
The project was completed in various stages and asset names were analysed in categories. Each change within a reviewed category was approved by the relevant members of the client's compliance team and ratified by the client contract management, asset management and database management teams. Therefore, showing WAVE's ability to understand and work with various levels of end user teams and the ability to articulate information in a coherent manner for all.
The improvement in asset naming accuracy for certain assets, often deemed as high risk, could only be achieved through the revisiting of designated sites. Due to a large number of sites needing revisitation and the large costs incurred if multiple specialist contractors were hired to visit all sites, the client decided to use the resources already available to them. However, due to varying levels of engineering understanding, tagging guides were created by WAVE to convey the relevant information in a concise and logical manner.
The client now enjoys an accurate and easy to manage asset database, something which will be crucial to a future where remote asset management is increasingly becoming the norm.